Wireless Surface Data Acquisition System (WSDAS)
Wireless Surface Data Acquistion (WSDAS). WSDAS is a real time Wireless Surface Data Acquisition System. WSDAS can be used with downhole electronic instruments to provide downhole and surface sensor data monitoring.
WSDAS wireless I/O network can operate in extreme environments while eliminating the need for costly and time consuming wire runs.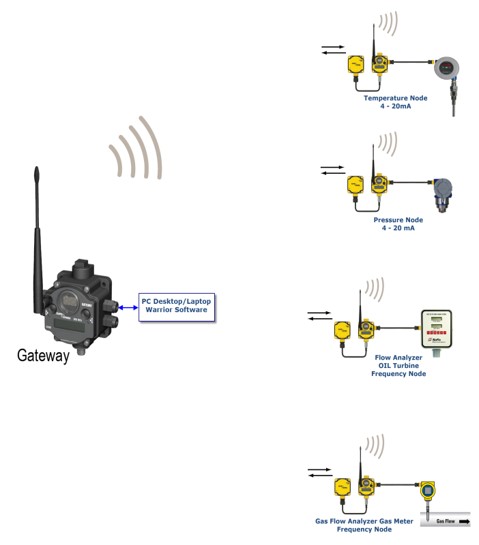 Configuration Diagram
A basic network consists of a Gateway system controller and one or more Nodes that monitor and/or control I/O in remote locations. Bi-directional communication between the Nodes and Gateway ensure easily deployed throughout an area.
Frequency Hopping Spread Spectrum (FHSS) technology and Time Division Multiple Access (TDMA) control architecture combine to ensure reliable data delivery. Power options allow battery and/or solar power sources. 2.4 GHz accommodates worldwide communication standards and rugged IP67/NEMA 6, FCC, CSA, and ATEX certifications.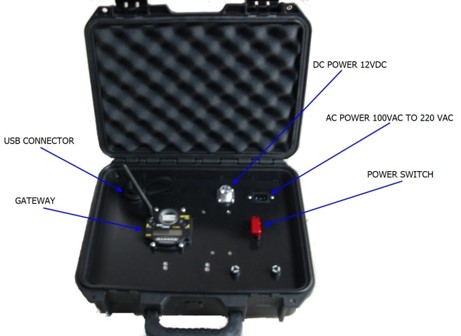 Remote Wireless Gateway Box
Specifiactions:
Range: 2.4 GHz: Up to 3.2 kilometers (2 miles)*
Transmit Power: 2.4 GHz: 18 dBm conducted, less than or equal to 20 dBm EIRP
2.4 GHz Compliance:
FCC ID UE300DX80-2400 - This device complies with FCC Part 15, Subpart C, 15.247
ETSI/EN: In accordance with EN 300 328: V1.7.1 (2006-05) IC: 7044A-DX8024
Spread Spectrum Technology: FHSS (Frequency Hopping Spread Spectrum
Modbus/TCP and EtherNet/IP: 4-wire Industrial Ethernet 10/100 Mbps, full or half duplex, auto sensing
Environmental Rating: IEC IP67; NEMA 6
Operating Temperature: −40 to +85° C (Electronics); −20 to +80° C (LCD)
Operating Humidity: 95% max. relative (non-condensing)
Radiated Immunity: 10 V/m, 80-2700 MHz (EN61000-6-2)
Shock and Vibration