Warrior Open Hole Well Logging System
The Warrior Well Logging System employs advanced software and widely available hardware to provide a cost-effective solution to well logging requirements for open and cased hole applications in SRO, LWD and memory operations.
Its main features include:
Wide Range of Down Hole Tool Support
Scientific Data Systems supports the widest range of down hole tools from many manufacturers. Tools in current production and obsolete equipment are supported.
Ease of Use with Graphical User Interface
The system is easy to use and the interface conforms to the popular MS Windows standard. Data monitoring is available in windows, which may be resized and repositioned as the user wishes. A typical user screen with scrolling log display and data monitors is shown below.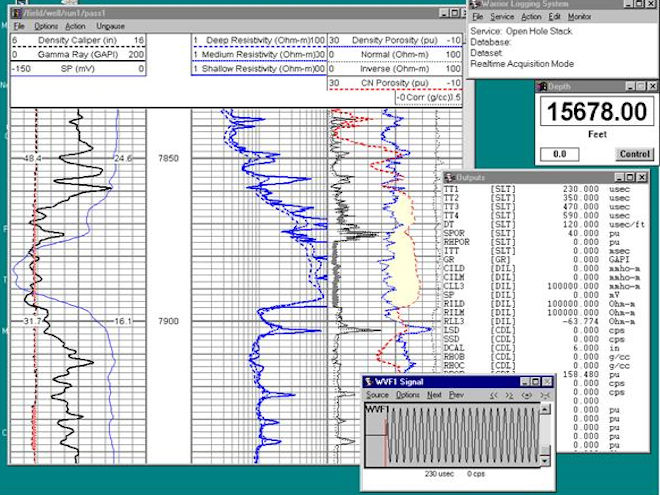 In the example shown at the left the operator is able to monitor the real time scrolling log, view any or all of the acoustic signals generated by a sonic tool, and also monitor all the log outputs, including depth and line speed. Optionally raw sensor data maybe displayed.
Multiple log plot windows may be opened for comparison of, for example, main and repeat log sections. Log plots may be paused and scrolled to any depth and annotations added, while data acquisition continues.
Depth correlation is achieved while logging, with the screen plot and system depth updated until correct depth is attained.
Log curve scales and other presentation parameters may be adjusted while logging and the screen plot redrawn until the desired output is obtained.The hardcopy plotter may be stopped and started at any time,presenting any interval with any desired presentation format.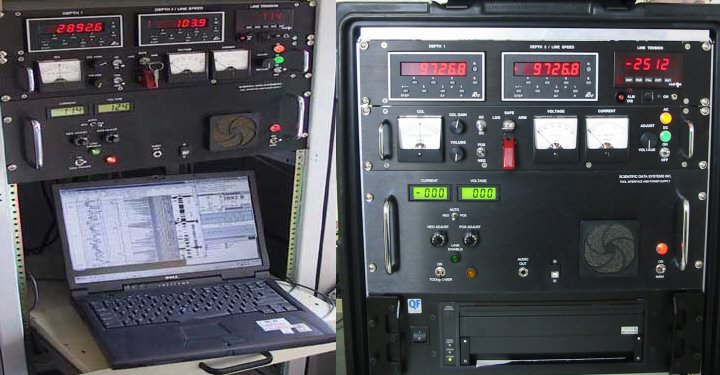 A typical Open Hole system, includes Cased Hole,Depth Line Tension, Perforating panels and either printrex or iSys (Veritas) plotters.
Windows PC Computer
The system will run on almost any Windows computer. The tool interface connects to the computer through the industry standard Universal Serial Bus (USB). The performance of the systems may be upgraded easily, as more powerful CPUs and other components become available. Systems may be configured for rack mount, or notebook and other portable computers.
Tool Interface and Power Supply
A compact tool interface and power supply may be provided which is suitable for the most down hole tools. The latest Digital Signal Processing (DSP) technology is employed to minimize hardware complexity and maximize flexibility. The interface may be configured for open and / or cased hole services, and incorporates expansion slots for future developments and upgrades.
Plotter Support
Generation of the final log print with heading, annotated log sections, calibrations, tool string diagrams, etc., is easily achieved. The system supports most well log plotter types currently in use, including color and the generation of multiple copies using pre-folded paper. Two plotters may be driven concurrently and independently. The system also supports PDF and other file formats as plot output.
Typical Open Hole Specification:
Software:
Hardware:
Mutli-tasking under MS Windows 7,8 and
Windows 10, Windows 11 32/64 Bit
Typical Rack Mount Version
System services include:
Computer:
Calibrations
Filtering
Graphical Tool String Configuration
Tool String Diagrams
Real Time Data Monitors
High Speed Multi-Well Log Database
3.0 GHz multi-core processor
8 GByte RAM
1 TByte Sata Hard Disk
Dual Display PCIe Graphics
USB 2.0/3.0 Ports
DVD-RW
SVGA 19 inch color rack mount LCD monitor
Rack mount 101 keyboard with mouse or trackball
Acquisition Modules include the following services:
Tool Interface and Power Supply:
Single and Dual Induction
Dual Laterolog
BHC Sonic
Long Spaced Sonic
Microresistivity
Micro SFL
Compensated Density
Compensated and Single Neutron
Gamma Ray
Spectral Gamma Ray
Laterolog
Formation Tester
Dipmeter
and Other services as required.
Tool Information Database and Editor
Recalculation (Relog) from raw data
Log Heading Editor
System Setup Control:
Depth Units
Data Units
User Interface Languages
Display Parameters
Graphical Log Format Editor
Computed Products
Well Sketch Editor
Merge, Splice and TVD Correction
Directional Survey Calculation
Log Annotations and Curve Labeling
Overlays
Log Presentation Editor
LAS ASCII Writer and Reader
LIS Read/Write
Tool and Caliper Motor Supplies
Analog Signal Conditioning
Pulse Detection
Sonic Logging
Telemetry Systems
Surface Sensor Measurements
Supports Many Open Hole Tools
Digital Signal Processor (DSP) 1.6 MSPS ADC
Integrated USB2 Hub and Flash Drive
16 Channel, 16 bit ADC
6 Channel Counter/Timer
Programmable Filter/Amplifier Boards
Acoustic Filter 400vdc, 500ma Power Supply
Programmable
Constant Voltage/Current Modes
External Power Supply Interface
Depth Encoder and Line Tension Interface
Surface Sensor Inputs
Plotter, includes support for
Printrex
iSys(Veritas)
Neuralog
HP DesignJet, PaintJet, DeskJet Color
Epson Stylus
Dot Matrix, and others
Data/Fax Modem (optional)
Uninterruptible Power Supply (optional)
Cables and Hardware for 19 inch rack mounting
Wired and Wireless Surface Sensor Systems

Portable and Open Hole Configurations
Support is available for a wide variety of open hole tools
for both oil field, water wells and other well log applications.
Various options for portable systems are also available,
please contact SDS for details.